YAN SHUN CO., LTD. was founded in Hong Kong and engaged in the business of label based industries. It started by producing label over 30 years and a wide range of products are now offered to clients of needs, such as silk-screen printing label, offset printing label, toys label, heat transfer label, ultrasonic label cutting and folding etc. To ensure its products accepted by international standard, a team of professionals have been retained to supervise the production process from the initial production stages through to final inspection.
The knowledge and experience which we have obtained in label printing for 30 years have gained us a name of worthy of trust and placed us in a very favorable position. Following the development of the label industry, we clearly note that one of the essential requirements of good products is the higher quality. We will, by introducing the advanced data system and management program, enhance the supervision of production process as well as quality control, so as to improve the quality and reduce the cost for which we are able to offer the superior quality and the most competitive price to our clients.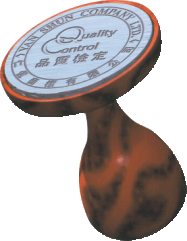 In order to control the quality of materials, a quality control department will be set up individually in responsible for following fields:
Materials - We will sign up a contract with our suppliers. The specification of materials must be coincide with our client's requirement. This contract will be renewed every year.
Inspection - We have 3 steps arrangement for inspection of the product before delivery:
1. Checking the quantity and content of products that are based on production order.
2. Inspecting the color and wording of product on production process.
3. QC department will also adopt random inspection to ensure that the quality is in perfect condition.
Testing - We usually send the label sample for lab-testing per 3 months.
Approved by Bureau Veritas Hong Kong Ltd.
Quality Control
YAN SHUN COMPANY LIMITED
Continously to improve our product quality

To provide the best product and service